Get Straight Teeth In Seattle With Clear Braces

If you dream of a beautiful smile, Invisalign® is the treatment for you! The smile of your dreams is just one comfortable treatment away. Give us a call today at 206-381-3055 to learn more about Invisalign in Seattle, Washington, and schedule your consultation with our skilled dentists, Dr. Daniel McKay and Dr. Brian McKay.
Invisalign® is a great choice for our patients who are searching for a more discreet orthodontic treatment option. Rather than using metal brackets and wires like traditional braces, the Invisalign system uses a series of custom-made, computer-generated plastic aligners to straighten your smile. Each set of aligners is designed to make small changes to the alignment of the teeth. As you switch sets of aligners about every two weeks, your teeth will be gradually, gently guided to their proper positions. You will also visit our office on a regular basis during treatment to make certain that your smile is progressing as planned.
In general, Invisalign can be used to treat the same orthodontic issues that are normally treated with braces. Our orthodontist may recommend Invisalign to correct:
Crowded teeth
Crooked teeth
Gapped and spaced teeth
Certain problems with the bite, such as an overbite, open bite, underbite, or crossbite
During your initial visit, we will determine whether you are a good candidate for Invisalign. This treatment is often a good choice for adult patients and others who are interested in a virtually invisible orthodontic treatment. In addition to being discreet, Invisalign aligners are also very comfortable because they are custom made from smooth, thin plastic. The aligners are removable as well, which allows you to easily remove them as needed in order to eat, brush, and floss. We welcome you to call or visit us today to learn more about Invisalign.
How Does the Invisalign® System Work?
Invisalign® clear braces are a series of comfortable orthodontic aligners. When you choose the Invisalign® system, we will take impressions of your teeth at your first appointment in our Seattle dentist office. Advanced imaging technology uses this information to create a series of aligners unique to your orthodontic needs.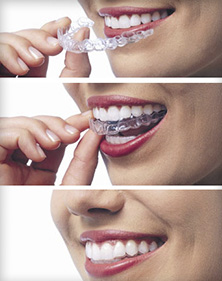 Every few weeks you will advance to the next set of clear aligners, and every six weeks you will have an appointment with your Invisalign dentist. At this appointment, we will provide you with your new aligners and update you on your progress.
You will wear your aligners 20–22 hours each day. Invisalign® treatment only takes 6–15 months to give most patients straight teeth. Our patients love both the easy process and the remarkable results of Invisalign® aligners.
What are the Advantages of the Invisalign® System?
Invisalign® clear braces will do more than give you straight teeth in a short period of time. They will also give you a pleasant orthodontic experience. Here are some of the advantages of the Invisalign® straightening process compared to other orthodontics:
Attractive – Invisalign® clear braces are subtle and appealing, unlike bulky metal braces.
Comfortable – The Invisalign® medical-grade polymer material is smooth. It won't cut your lips or create sores, and it won't break or poke like metal brackets.
Less Office Time – Invisalign® clear braces only require a visit every 6–8 weeks. Other types of braces require sitting in the dental chair every four weeks.
Effortless – It is simple to remove and maintain your Invisalign® braces. Simply soak them in denture cleaner or brush them with a toothbrush.
No Food Restrictions – Metal braces can break at any time, so crunchy or sticky foods are off-limits. Invisalign® clear braces should be removed when you eat anyway. You can eat any of the foods you love!
Get Started with Invisalign® Clear Aligners
Invisalign® Clear Aligners are a convenient and appealing substitute for braces. Is your smile suffering from a little crookedness or overcrowding? Invisalign® clear braces are an easy way to achieve straight teeth. It's time to maximize your beautiful smile. It's easy to attain straight teeth with Invisalign® clear braces. Call us today to schedule a consultation with your Invisalign® provider, Dr. Daniel McKay, DDS, or Dr. Brian McKay if you are in the Seattle area.