Professional Teeth Whitening Dentist in Seattle, WA
Get Beautiful, White Teeth Today!

Tooth whitening is the most requested cosmetic dentistry treatment in America. Teeth whitening, also called, "teeth bleaching," is a simple, safe, and effective technique when administered by a properly trained dental professional.
For people throughout the Seattle area, Advanced Cosmetic & Implant Dentistry is the destination for a whiter, brighter smile and a healthier mouth.
With teeth whitening, you can remove the stains and discolorations from your teeth and brighten your smile. Dr. Daniel McKay provides both in-office and take-home whitening to improve the appearance of your smile. We invite you to call us to learn more about teeth whitening in Seattle, Washington, and make your appointment with our talented dentist.
Is Teeth Whitening Right for Me?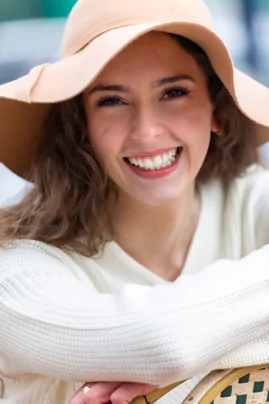 Teeth whitening is a simple, effective cosmetic dental treatment that we offer to noticeably enhance your smile in as little as one treatment. Our professional teeth whitening treatments utilize a powerful yet safe whitening gel that is applied to the surface of your teeth. This gel works to lighten the appearance of stains, discoloration, and yellowing on the tooth enamel. Teeth whitening is often available in both in-office and take-home systems. Professional teeth whitening can give you a noticeably whiter smile that will boost your self-esteem and help you smile with pride.
If you have ever wished that your smile were whiter and brighter, teeth whitening might be right for you. Through professional teeth whitening, we can lighten staining and discoloration caused by various factors, such as:
The natural aging process
Poor dental hygiene habits
Consumption of certain drinks and foods, including tea, wine, coffee, and soda
Smoking and other forms of tobacco use
Illness
Certain medications
Fluorosis
Our dentist will work with you to determine the right type of treatment and treatment length to achieve the smile aesthetic you desire. To learn more about professional teeth whitening and to set up your consultation at our office, please call us today.
Teeth Whitening Options in Seattle, WA
We offer an array of treatment options for achieving a whiter smile, including:
Take-Home Gel Teeth Whitening Trays
Take home gel teeth whitening trays are a popular option for those looking to whiten their teeth at home. These trays are typically made from a mold of the patient's teeth, which is taken at your Seattle dentist's office. The patient fills the tray with a peroxide-based gel and wears it for a specified period of time, usually around 30 minutes to an hour per day. The peroxide in the gel penetrates the tooth enamel and breaks down stains, resulting in a brighter, whiter smile.
Sinsational Smile Professional Teeth Whitening

Sinsational Smile is a teeth whitening system that utilizes a unique, patented silicone tray and a specially formulated gel. The tray is designed to conform to the patient's teeth, ensuring maximum contact with the gel. The treatment process typically takes 20 minutes and can be completed in a single office visit at our practice in Seattle. The Sinsational Smile treatment can whiten teeth up to six shades in a single session, making it a more efficient option than traditional take-home whitening trays.
Schedule a Professional Teeth Whitening Appointment in Seattle
To find out more about how you can achieve the white teeth you've always wanted, feel free to contact us at our office today!