Your Porcelain Veneers Dentist In Seattle, WA
What are Dental Veneers?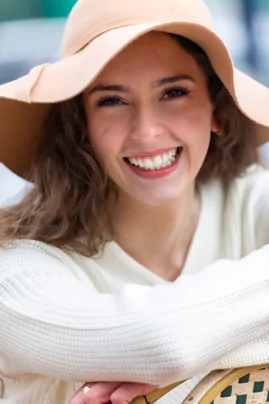 Veneers are very thin shells, typically made of porcelain or resin, that are bonded to the front of your teeth to enhance the beauty of your smile. Our dentist may recommend dental veneers to correct several types of smile imperfections. Porcelain veneers are an excellent choice for enhancing your smile because the color and translucence of porcelain is a great match for the natural appearance of tooth enamel. Porcelain is stain resistant as well, so your smile will stay bright for years to come. Resin veneers can also be matched to your natural tooth color. With dental veneers, you can achieve a beautiful, natural-looking smile that you will love to show off.
Teeth veneers are one of the most popular and beautiful ways to improve your smile. Veneers create an entirely new face for your teeth while also strengthening them. The effect of a well-done veneer is subtle, yet immediate: People who've known you for years will stare at you and ask, "What's different about you? You look fantastic!"
Whether or not you want to tell them the secret is up to you!
You have choices with your dental veneers. Seattle cosmetic dentist, Dr. Brian McKay, DDS, and our team at Advanced Cosmetic & Implant Dentistry will work with you to help determine which type of teeth veneers are right for you.
Why Porcelain Veneers?
Porcelain dental veneers improve the position and shape of your teeth, providing a uniformity that may have been lost over the years due to chipping, grinding, bad alignment, or other factors.
Porcelain veneers can be shaped to fill in midline spaces (or a "gap tooth"). And if your teeth have been stained by years of smoking, coffee drinking or simple genetics, porcelain veneers can quickly restore that brilliance.
Patients love porcelain veneers because they can fix almost any aesthetic issue in as little as two appointments at our Seattle dentist office. You can create and custom-design the beautiful smile you've always wanted.
What To Expect During a Tooth Veneers Procedure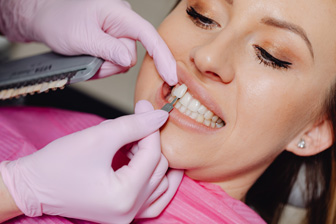 Custom-fit porcelain veneers (or laminate veneers) are thin, durable structures designed to mimic the tooth's natural structure. They are bonded to the front surface of your teeth, and can securely perform any natural tooth function.
Dr. Brian McKay, DDS, is highly experienced at fitting porcelain dental veneers. When you choose porcelain veneers for your teeth, we will meet with you to discuss your smile goals and create a personalized treatment plan.
Before we place your tooth veneers, we will prepare your teeth to create a strong bond between the surface of your tooth and the veneer itself. After this, the veneers are bonded to your teeth, and voila!
Dental Veneer Options
At our Seattle practice, we offer both traditional porcelain veneers and prepless DURAthin veneer options. Prepless DURAthin veneers require no preparation or alteration of your natural tooth structure.
Candidates for Porcelain Veneers?
Our dentist may recommend dental veneers if you would like to improve the appearance of your smile. Custom-made veneers can be used for just one tooth or for your entire smile. We may suggest veneers to:
Close large spaces and gaps between teeth
Whiten teeth that are severely stained or discolored
Improve the appearance of irregularly shaped teeth
Correct slightly crooked teeth
Restore teeth that are broken, chipped, worn, or fractured

To find out more about our prepless option, we invite you to call or visit our office today to learn more about custom dental veneers and how we can enhance your smile. We look forward to hearing from you!
Schedule your consultation today