Your Tooth Crown Dentist In Seattle, WA


Many dental practices offer porcelain crowns, but few deliver the knowledge and experience in tooth crown design and placement that you can receive at the hands of Seattle cosmetic dentist Dr. Dan McKay, DDS, and our team at Advanced Cosmetic & Implant Dentistry. Dr. Daniel McKay provides porcelain crowns and bridges to restore the health, function, and beauty of your smile. We have chosen to use porcelain because it mimics the translucency and color of tooth enamel, giving you a beautiful, long-lasting restoration for your smile. Call us to learn more about porcelain dental crowns and bridges in Seattle, Washington, and schedule your consultation with our experienced dentist.
What is a Dental Crown?
Your natural tooth crown is the portion of your tooth above the gumline. Dental crowns, also known as "tooth caps," are beautiful dental restorations that can protect and preserve your remaining tooth structure after decay or damage to that natural crown. All this while also giving you an aesthetically pleasing solution for your smile.
Our dentist may recommend a crown when one of your teeth is damaged by decay, broken, has a large filling, or has received a root canal. Crowns are also used to cap dental implants and anchor bridges. Your crown is custom-made to fit your smile, and covers your entire tooth above the gum line to restore its shape, appearance, and function and prevent future damage from occurring.
Our Approach to Teeth Crown Design and Placement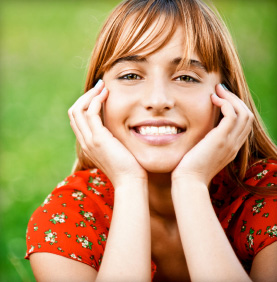 To prepare and place a tooth-colored porcelain crown, we take many factors into consideration, including your lifestyle, bite function, face shape, skin tone, and the overall health of your mouth. We work directly with master ceramists at one of the top dental laboratories in the U.S. to custom-design your porcelain dental crown.
When it's time to install a dental cap, we first remove all injured or decayed portions of the tooth. Then, the missing portion of the tooth is replaced with porcelain, shaped to conform to your bite.
A temporary tooth cap is made to protect the tooth until your porcelain crown is ready. At your next visit to our Seattle dentist office, the cap is removed and the new cosmetic dental crown is put in place.
Already Have Dental Crowns?
If you have an older crown, you may notice an unsightly dark gray or gold line near your gum line. Our team uses state-of-the-art crowning techniques and technologies to eliminate that old gray or gold line and restore the tooth to its most natural, beautiful appearance.
Dental Bridges in Seattle, WA
When you lose a tooth, the gap left behind will eventually cause your remaining teeth to shift in place, giving you a bad bite and raising the possibility of a TMJ (jaw joint) disorder. Dental bridges close this gap, giving you back a beautiful smile, the ability to chew and speak properly, and a healthy bite. In addition, they help maintain the shape of your face and prevent any shifting from occurring. Our dentist may recommend a bridge when one or more teeth are missing.
Get Started with Dental Crowns in Seattle, WA
To learn how porcelain crowns can restore the health and appearance of your smile, give us a call! We work with patients from all over the Seattle area! We invite you to contact us today to learn more about dental crowns and bridges and set up your appointment with our dentist.