Your Dental Laser Dentist In Seattle, WA


Say goodbye to those invasive and messy dental tools. Say hello to the high precision dental laser!
Did you know you can improve your dental experience dramatically by choosing laser dentistry? Laser dentistry promotes less bleeding and faster healing times. A dental laser is also more accurate and comfortable than the basic dental drill.
Dr. Daniel McKay is committed to helping you improve your oral health. For this reason, he utilizes lasers in many of the treatments he provides. Lasers offer a safe, hygienic, anxiety-free, and comfortable alternative to many treatments. We welcome you to call us to make your appointment with our skilled dentist and learn more about laser dentistry in Seattle, Washington.
What is Laser Dentistry?
Laser dentistry involves the use of dental lasers to complete dental treatments more comfortably, quickly, and effectively. At our dental practice, we are dedicated to always providing you with the best possible dental care. Our dentist and dental team continuously update their education and our office to provide you with a more pleasant and efficient dental visit. We are proud to offer laser dental treatment to ensure that your dental experience is comfortable and positive.
Lasers can be used for a number of dental treatments. During your visit, our dentist may recommend laser dentistry to:
Treat periodontal disease by removing bacteria and infected tissue
Speed up teeth whitening
Recontour the gum line
Laser Your Way to Healthy Teeth!
We use dental laser technology for laser teeth cleanings and laser periodontal therapy. In the past, deep teeth cleanings involved scraping and potentially painful bleeding. Not anymore!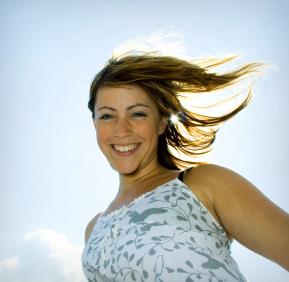 Laser teeth cleaning works differently. Instead of using sharp tools for scraping, a dental laser vaporizes the harmful bacteria and cleans the damaged gums. Laser dentistry can quickly return red and swollen gums to complete and total health.
You don't have to cut or drill your teeth to achieve the perfect smile. A dental laser is the more efficient choice!
Soft Tissue versus Hard Tissue Lasers
Soft tissue lasers are frequently used to treat the gums. During a laser gum disease treatment or a gum reconstruction, the dental laser removes damaged material without harming the healthy gums.
Soft tissue lasers are also used to detect the earliest signs of dental decay and oral cancer. They can even remove small sores or ulcers from the mouth in no time.
Hard tissue lasers work to gently remove dental decay. Hard tissue lasers can prepare the teeth for new dental work by roughening them, or "etching" them. They can also excavate fissures in the teeth for the placement of dental sealants.
Benefits of Laser Dentistry in Downtown Seattle, WA
There are many benefits of laser dentistry. Many treatments completed with a dental laser are very comfortable and may not require the use of anesthetic. Dental lasers also shorten treatment time and healing time and decrease the risk of infection following treatment. In addition, lasers minimize bleeding both during and after treatment, and because they are very precise, we are able to treat the targeted area without affecting nearby healthy tissues.
Dental lasers reduce the need for anesthesia in some procedures.
Laser dental treatments are usually pain-free.
Chances for bacterial infection decrease.
Possibility for error decreases.
Healing time and bleeding decreases.
Are you taking advantage of ultimate precision dentistry? Call us today to find out how laser dentistry can enhance your current smile if you are in the Seattle area!